Satoshi Takano
Languages
Japanese, Vietnamese
Background
Travelled to Vietnam in October 1995. 19 years living in Vietnam
Employment history

Language school (several thousand students, Vice Principal)
Department store (clothing, food, living/responsible for independent sales Dept.)
Trading company (Assistant Manager of Vietnam office)
Precision part manufacturer (Vice President)
Investment fund (Manager of Vietnam Office)

Through practical experience in a diverse range of industries, Satoshi has cultivated an extensive personal network, including students, young business entrepreneurs and presidents of leading state and private-run corporations. All business with the Vietnamese is conducted in the Vietnamese language.
Tran Nhu Ai
Education
Can Tho University, Environmental Studies
Languages
Vietnamese, English, Japanese
Employment history

Ai joined the Ho Chi Minh office of World Link Japan in 2006 through a referral from one of the teaching faculty at Can Tho University located in Can Tho city, the largest city in the southern area of the Mekong Delta. In addition to general back office work (accounting, taxation, translation etc.)
Ai is also involved in survey work, such as providing support for soil surveys etc. in the Mekong Delta.
Phan Thi Minh Diem
Education
Hong Bang University, Environmental Studies
Ho Chi Minh City University of Economics, School of Finance/Banking
Languages
Vietnamese, English
Employment history

Joined the Ho Chi Minh office of Japan Asia Investment Co., Ltd. in 2007.
Responsible for back office work

Following the withdrawal of Japan Asia Investment to Vietnam, Diem joined the Ho Chi Minh Office of World Link Japan in 2013.
Here Diem is responsible for back office duties (taxation, accounting) and providing marketing support in the form of corporate audits etc.
External Partners
Developing extensive "personal" networks in Vietnamese society is essential in building up a business in Vietnam. A large number of Japanese corporations are extremely confident in their own brand and services and will often rely on their own resources in the belief that they can succeed in Vietnam as long as they have a good interpreter. However, the majority of Asian companies are owner-run companies and like Japan, operate on the principle of "the truth and a sugar-coated version of the truth". As a result, trying to go it on your own is not always the best approach.
World Link Japan has carefully nurtured the extensive personal networks of each of our employees. As a result, a large number of our partners are comprised of personal connections, both business and private, developed by individual employees over the past 20 years. Through this network of partners, it is possible for us to accurately gauge the true intentions of owners and managerial staff of potential business partners in Vietnam.
In addition to Japanese personnel, including former resident staff of leading banks, Hanoi University exchange students, former trading company resident staff, and former government employees, World Link Japan has connections to a large number of very talented Vietnamese personnel, including personnel with practical experience in the Japanese trading and manufacturing industries and government offices in Vietnam etc. and lawyers and accountants etc.
World Link Japan has the ability to create a team of optimum business producers tailored to suit just about any project.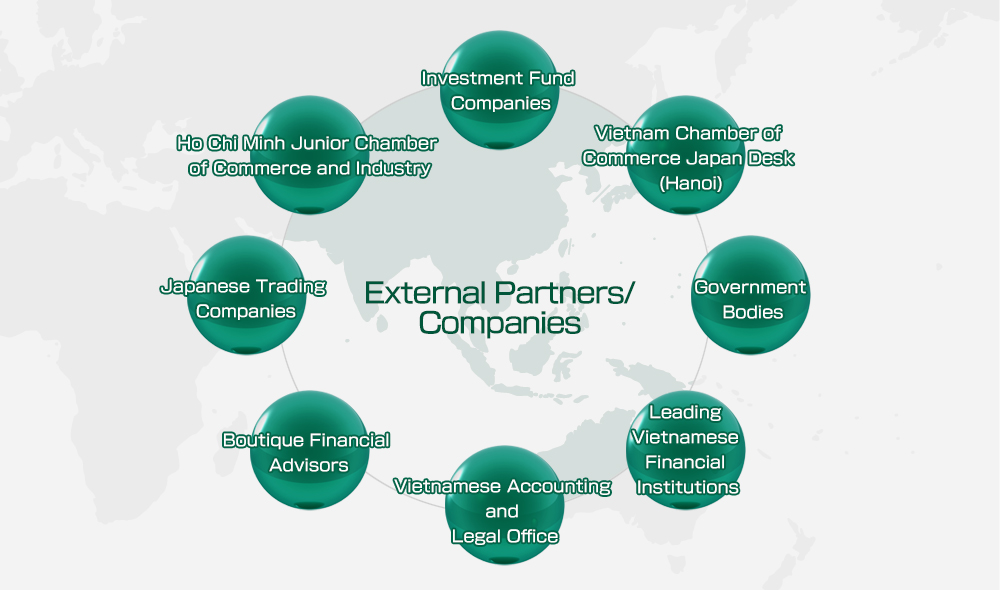 How we can help you with our external partners
(Example) Client requirement: Can you find someone that can process leather products in Vietnam?
Create a long list of potential candidates by in-house staff, ask the opinion of our external partners.
Japanese staff visit potential Vietnamese companies and create a short list. Request external partners to investigate the industry reputation etc. of potential candidates.
Introduction of potential candidates to the client and business collaboration negotiations
Introduction to a range of other external partners in various fields when necessary following commencement of production
Other examples
(Example) Client requirement: Can you provide advice on the investment environment in provinces targeted by small and medium-size enterprises for expansion into Vietnam and the kind of businesses with a high chance of success in that environment?
Conduct investigations together with external partners already conducting business in those provinces and provide a proposal.
(Example) Client requirement: I want to buy shares in a state-run company in Vietnam. Can you introduce me to potential companies and provide support in negotiations?
Proceed with negotiations together with an external partner that has a close relationship with potential candidates.
(Example) Client requirement: I want to relocate a manufacturing plant to Vietnam. Can you find an optimum location in terms of procuring materials and exporting the finished product to Japan?
Select potential areas together with external partners and help with negotiations for purchase of the land.
(Example) Client requirement: I want to sell my product in Vietnam. Can you help find a distributor?
Ask external partners in the distribution industry to investigate demand for that product in Vietnam.
Obtain a list of potential candidates from our external partners.