From 2006 to present, World Link Japan has been involved in two investment funds (total US$113 million).
The first fund focused entirely on Vietnam while the second fund targets the entire South East Asian area.
Two common denominators between both of these funds are that they are both hands on and look to invest in Vietnamese and South East Asian companies looking to the Japanese market or Japanese companies for support in order to enter into business partnerships with Japanese companies or gain a foothold into the Japanese market.
Further, young Asian companies, (particularly private companies in Vietnam) in the middle of economic growth can form important business partners for Japanese corporations looking to expand overseas.
In our position as one of the few Japanese companies with an extensive, ground-roots knowledge of local Vietnamese companies, World Link Japan offers a range of services to Japanese corporations, including sourcing business partners, supporting the due diligence process in M&As and overseas expansion services linking local Japanese government agencies with provinces in Vietnam.
World Link Japan will continue to serve its role as "stagehand" to ensure the "coexistence and mutual prosperity" of Japan and Asia.
Investment Funds
| | |
| --- | --- |
| Fund name | JAPAN VIETNAM GROWTH FUND (JVGF) |
| Established | 2006 |
| Fund amount | US$23 million |
| Investors | Leading financial institutions and trading companies, etc. |
| No. of investments | 10 |
| Investment outlets | Private Vietnamese companies |
| Characteristics | Hands on |
| Means of investment | Common shares or convertible bonds |
Background behind establishment of the fund
In 1994, Junichi Ito (at the time manager of Ho Chi Minh Office of Nissho Iwai) met with former professor at Johns Hopkins University, James Riedel , who at the time was visiting Vietnam.
Economic reforms under the Doi Moi Policy were, at the time, gaining momentum in Vietnam, giving birth to more private companies and opening the door to foreign-owned corporations.
However, in truth, the key players in the majority of economic fields were state-run organizations and it was next to impossible for private companies to receive bank financing.
James Riedel and Junichi were both of the opinion that the growth of private companies was essential for economic development in Vietnam and that means other than banks, in the form of investment funds, were required as a means of fund procurement to ensure the growth of private organizations.
After leaving the employ of Nissho Iwai (currently Sojitz), Junichi established World Link Japan in 2003 and in 2006 set up the Japan Vietnam Growth Fund with the backing of leading Japanese corporate investors.
Investment outlets: Securities companies, Manufacturers (plastic sash window frame construction materials, generic medicines, plastic bags and wooden toys), Agriculture (cut flowers), Telecommunications (outsourcing, system development, ERP), Logistics (sale of LPG gas).
| | |
| --- | --- |
| Fund name | JAPAN SOUTH EAST ASIA GROWTH FUND (JSEAGF) |
| Established | 2011 |
| Fund amount | US$90 million |
| Investors | Leading financial institutions, etc. |
| No. of investments | 4 (1 already sold) |
| Investment outlets | Companies in South East Asia |
| Characteristics | Hands on |
| Means of investment | Common shares or convertible bonds |
Support services to Japanese corporations
Paper pulp trading company "N"
Security printing company "S"
And others
Basic flow to expanding into Vietnam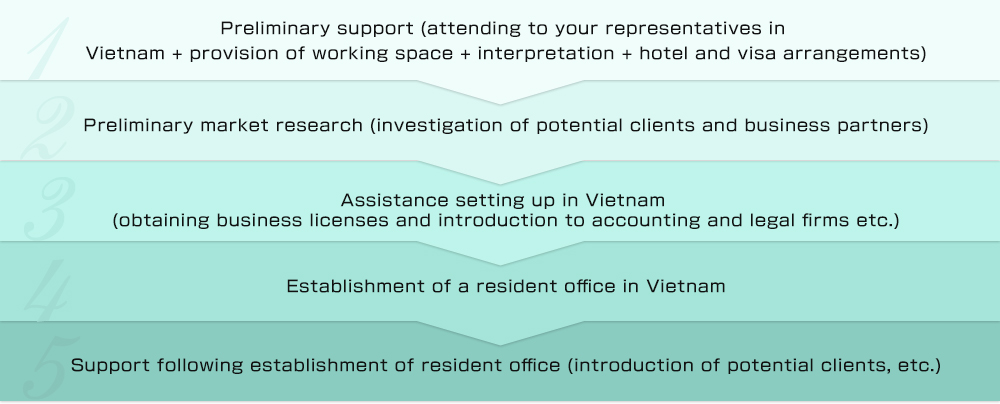 Sourcing manufacturers for Japanese corporations
Leather product manufacturer and wholesaler "Y"
Basic flow to expand into Vietnam